On 25-26 May 2021, CIS Arbitration Forum will bring together leading practitioners, academics and arbitrators to discuss some of the most challenging problems which lawyers face in disputes related to Russia, Ukraine, Kazakhstan and other countries of the CIS region.
Four panels will feature recognised experts presenting their views and answering questions from the audience.
The conference is an opportunity to stay on top of the most recent developments related to the region, to establish new connections and demonstrate expertise.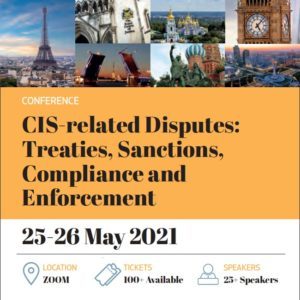 Topics discussed
The first panel will feature practitioners from several jurisdictions who will give an update on the most recent legislative changes and trends related to commercial and investor-state arbitration and court practice involving foreign parties.
The second panel will examine Soviet and intra-CIS BITs, an often unexplored opportunity which the parties are increasingly using to establish jurisdiction of tribunals.
The topics discussed will include the application of Soviet BITs to former Soviet Republics, arbitration under Eurasian Economic Community treaties, the applicability of the Energy Charter Treaty to intra-CIS disputes.
The third panel will focus on sanctions how they affect dispute resolution in international arbitration and domestic proceedings.
The fourth panel will discuss law and practice related to the enforcement of foreign arbitral awards and judgments in key jurisdictions.
Among the speakers:
Dr Dmitry Davydenko, MGIMO University, Moscow
Maria Gritsenko, VEON, Amsterdam
Prof Kaj Hobér, Uppsala University, Uppsala
Veronika Kondruseva, Severstal, Moscow
Prof Alexey Kostin, MGIMO University, Moscow
Prof Yarik Kryvoi, British Institute of International and Comparative Law, London
Polina Lomakina, Department of International Law and Cooperation, Ministry of Justice, Moscow
Olena Perepelynska, Integrites, Kyiv
Yuriy Pochtovyk, Energy Charter Treaty Secretariat, Brussels
Evgeniya Rubinina, Enyo Law, London
Prof Islambek Rustambekov, Tashkent State University of Law, Tashkent
Baiju Vasani, Ivanyan and Partners, London and Moscow
Registration
The number of places is limited to ensure possibilities for meaningful dialogue and networking.
The early bird registration fee is £150, admission for in-house and government lawyers is free of charge.
To register, please visit Eventbrite.
To keep up to date with key conference-related developments, join CIS Arbitration Forum on LinkedIn.
For any questions related to the conference, email editor@cisarbitration.com.
For more details about the event please visit its page.