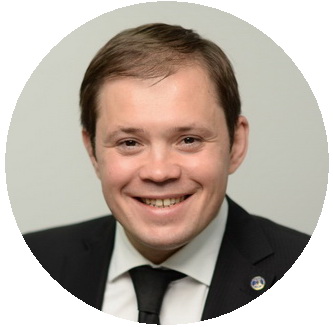 President
of Ukrainian Bar Association
Denys Bugay
Attorney-at-law, partner of VB PARTNERS
Education
Higher legal education.National Yaroslav the Wise Law Academy of Ukraine, Kharkiv (2001).
Professional activity
Specializes in white-collar crime, GR, dispute resolution. Primarily advises and represents individuals and companies in Ukraine, as well in complex multi-jurisdictional proceedings, including those concerning fraud, corruption, money laundering, etc. Has a significant experience in project management in banking and media spheres, as well as in the oil, gas and tobacco industries.
The partner and co-founder of VB PARTNERS boutique law firm since 2005. The company is consistently included in the TOP-50 of the most successful law firms in Ukraine and recognized by the key international and national ratings (The Legal 500 EMEA, Chambers Europe, Best Lawyers, Who is Who Legal, etc.).
Work experience: National Bank of Ukraine, international investment fund, member of supervisory boards of the bank and media holding.
Recognitions

The Legal 500 EMEA: one of the leading Ukrainian lawyers in the field of White-Collar Crime (Top-tier);
Best Lawyers (2013 - 2019): one of the best Ukrainian experts in criminal and corporate law;
Chambers Europe (2018, 2019): in TOP-7 lawyers in Ukraine in the field of White-Collar Crime;
Who is Who Legal (2017-2018): Business Crime: one of the leading lawyers in Ukraine in the field of Business Crime Defence;
Legal Awards: Best Criminal Lawyer of the country in 2018;
Rating of "50 leading law firms of Ukraine" (2017, 2018): in Top-4 list of experts of the country in the field of Criminal Law;
Ukrainian Law Firms. A Handbook for Foreign Clients (2015, 2016, 2017, 2018): in Top-5 list of experts of the country in the field of Criminal Law/White Collar Crime.
Public activities
President of the Ukrainian Bar Association (UBA).
National expert of the projects of Council of Europe aimed at supporting reforms in the areas of justice and criminal justice, in particular:
Member of the Working Group on Reforming the Advocacy in the Council on Judicial Reform under the President of Ukraine. One of the authors of the draft of the law "On the Bar and Practice of Law".
Initiator of the project "Tomorrow's Lawyer" - the first all-Ukrainian program of professional development of attorneys-at-law, established in partnership with the Canadian Bar Association and with the support of Government of Canada and the United States Embassy.
According to the authoritative publishing house Yuridicheskaya Practika has been recognized as one of the 10 most active lawyers in the country for the last 6 years.
Language skills: Ukrainian, Russian, English.